Accessory Dwelling Units California
Aka Granny Flat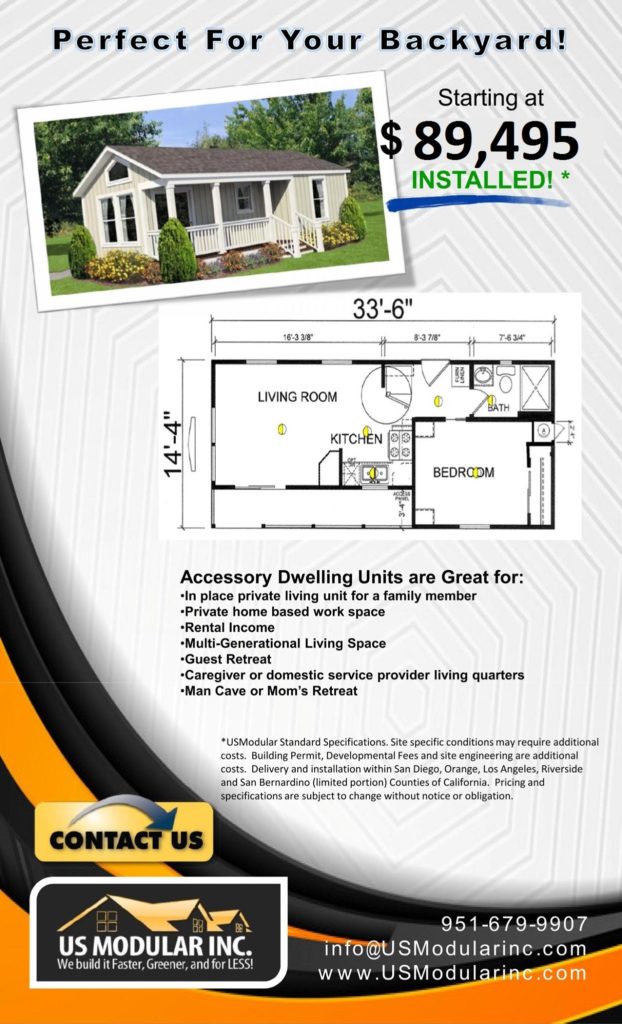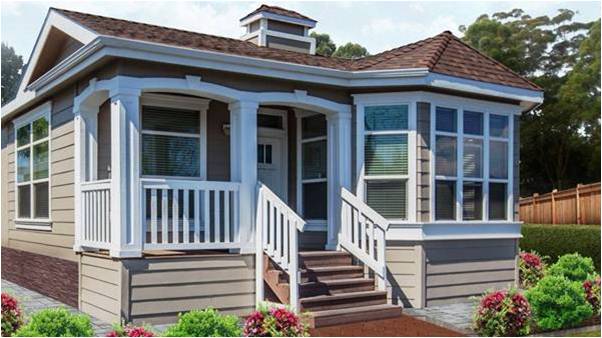 Why Install an Accessory Dwelling Unit?
People build ADU's for lots of reasons, but the most common are rental income and/or to house relatives. Having a second unit is a simple and old idea to convert unused space. Second units are a relatively affordable type of construction, because they do not require purchasing land or major new infrastructure. With rents for a 1 bedroom typically averaging over $1600 / month in many areas of Southern California many people install an ADU to help pay off their primary mortgage or earn extra income. Can you use extra income or do you have a family member /friend that needs a place toLive?
How much does it Cost to Install an ADU?
Cost depends on several factors:
ADU size
Accessibility to ADU location
Building Code (Local or Federal)
Local Building department requirements and Fees
USModular offers detached ADU's starting at $89,495 for the ADU built to Federal Code, Delivery, Foundation, and Utility Connection to cities within Southern California. Permits, fees, grading , utility extensions are all site specific and will be determined once a plan is submitted to local building department
What is an Accessory Dwelling Unit?
An accessory dwelling unit, commonly called a granny flat or in-law suite must exist on a lot that's zoned single-family. It has its own entrance, separate from the primary house, as well as a kitchen, bathroom and living space. These units can be rented, year-round, and add a lot of value to a property.
Zoning
ADUs must be placed on single-family residentially zoned lots. ADUs are allowed in all residential zones.
In San Diego, companion units can also be permitted in multi-family lots under specific circumstances. They are allowed on lots where the maximum number of dwelling units is two. So, if you have, for example, a lot zoned RM1-1 with two units or less you may be able to add a companion unit. Multi-family can get complicated, so we recommend booking a free appointment with a San Diego ADU expert by calling 888-987-6638 to find out if your lot would qualify.
If your area is in a Coastal Overlay Zone, there may be additional regulations in order to protect our coasts.
Lot size
There is no minimum lot size requirement for an ADU in San Diego. Only ADU unit is allowed per lot.
Min/Max Building Sizes
Your maximum build size differs depending on whether your accessory unit is attached or detached from the primary home.
Attached ADU: The floor area of the ADU should not be more than 50% of the existing residence up to 1,200 square feet. For example, if your existing house in 2,500 sq. ft., the attached ADU cannot exceed 1,200 sq. ft. in size.
Detached ADU: For a detached ADU, the total floor space area of the ADU should not be more than 1,200 square feet, regardless of the size of the primary residence.
The floor area of the ADU should be included when calculating the total floor area of the lot.
Height Restrictions
The maximum height of an ADU is 30 feet.
Parking
Companion units should follow the same parking regulations as the main house. If there is parking access from an alley before, there should still be accessible after building an ADU, unless there is a garage.
There are many options for parking spaces. They may be put within setback areas, covered or uncovered, or use mechanical lifts. The important thing is that they provide safe and efficient vehicle access. The minimum parking requirement is one parking space per ADU, with 0.5 parking spots per bedroom.
Parking is not required if the ADU is:
500 square feet or less
Located within half a mile of transit
Located in a historical resource area
Already part of the existing building
Located in a residential permit parking district
Located within one block of a car share station
Located within one block of a bike share station
Setbacks
A setback is a minimum distance a structure must be away from the street, buildings, or other features.
ADU's may extend into the setbacks if the structure is one story and less than 30 feet in length.
Owner Occupancy
An ADU can't be sold separately from the main house. The owner does not need to live in the main unit or the ADU. Both structures can be rented.
Rentals
California passed Senate Bill 1069 in an effort to increase the supply of housing to the state. For this reason, any accessory dwelling unit may be used for a long-term rental. ADU's cannot be rented out for less than 30 consecutive days.
How to Evaluate ROI
Building an accessory dwelling unit, especially if you intend to keep the property for a few years, represents an enormously beneficial opportunity to maximize your property.
By constructing an accessory dwelling unit you are adding additional square footage to the property. So if you can build a unit for $275 a square foot, but the average value of homes in your neighborhood is worth $400 a square foot you are gaining instant equity through the project. Plus, you also now have the added benefit of a flexible space that can be rented or used for family.
Examples of USModular ADUs Starting at $89,495:
USModular, Inc. Accessory Dwelling Unit Services include:
More ADU floor plans available at www.USModularinc.com
Starting at rice includes: Design, fabrication of home, delivery, foundation, install, fixtures and finishes to USM specifications
Phase 1: Planning
Review local building department for ADU regulations and requirements
Determine floor area ratio, setbacks, parking, mass transit plan, availability of utilities
ADU submittal requirements
New construction of ADU with Modular(CBC/Local) or Manufactured (HUD/Federal))
Develop conceptual budget for Modular (CBC/Local) or Manufactured (HUD) or Site Built New construction
Phase 2: Construction Contract
Choose Modular (Local/CBC) or Manufactured (/Federal/HUD) Construction type for ADU
Cost: Accessory Dwelling Units starting at price
Select Floor Plan, Specifications, Decor, Etc.
Finalize Construction Budget and Contract
ADU Submittal and approval through State approved 3rdparty and local jurisdiction
Build (Fabrication) the ADU on Factory while completing all onsite construction necessary to meet local ADU requirements, including, utilities, foundation, install, parking etc.
Coordinate with the local building department for inspections
Obtain Certificate of Occupancy
Cost: Accessory Dwelling Units starting at price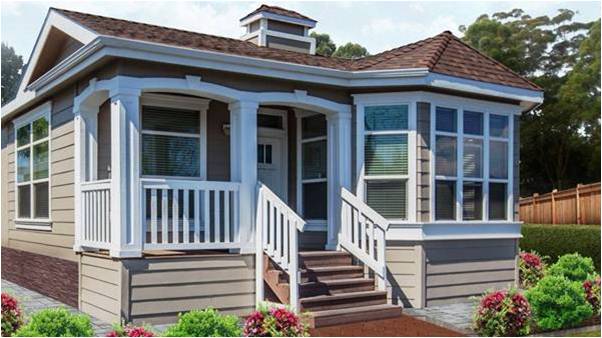 USM Standard ADU Modular Builders Specifications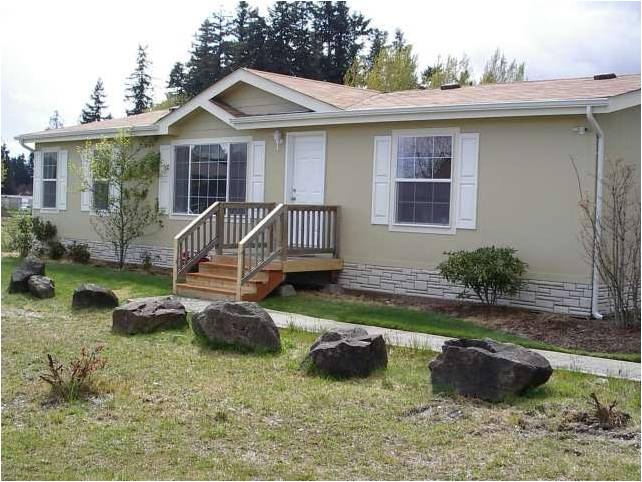 This information is for reference only and lot specific information will be gathered during Phase 1 Feasibility Study.
USM Standard Manufactured (HUD) ADU Builders Specifications
Additional notes
Fire sprinklers are not required in ADUs, if they not required in the main residence.
This information is for reference only and lot specific information will be gathered during the Phase 1 -Planning


List of California City / County ADU Requirements

Here is a list of California City and County ADU regulations specific for each area. Many areas still default to the recent California memorandum regarding Accessory dwelling units and granny flats.

Lafayette
Lake Elsinore
San Diego (City)
San Francisco
Thousand Oaks
Contact USModular Inc to learn more about the ADU that is perfect for you!!!!
Info@usmodularinc.com
951-679 9907