Are USModular Homes in Temecula Environmentally Friendly, Energy Star Certified, and LEED Certified?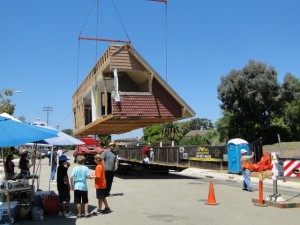 Modular homes in Temecula are greener and more energy efficient than site built properties. Make your new home as green as it can be with a prefab home! Its obvious that 'going green' is prominent to the dwellers of Temecula. From green shopping, green cars and green architecture, green hotels, and green dining and activities, its apparent Temecula dwellers have the environment on their minds in all outlooks of their lives.
USModular is obligated to saving you as much money, both now and in the future, as possible. We also know that we play a role in doing our part to protect the environment as much as we can. Constructing homes off-site and in a controlled factory allows us to make the most of reusing and recycling processes, inventory and excess control, and humidity control. Each of our customized modular properties is equipped with many energy efficient elements. We use energy efficient Low E windows, fiberglass batt insulation, low flow valves, pex water piping, and many more environmentally friendly options. Our engineers and drafting teams work directly with homeowners and home builders nationwide to guarantee that the prefabricated project is LEED Certified at one of the 4 levels of certification.
Four Levels of LEED Certification in Temecula LEED certification in Temecula is a point based organization pattern where building projects earn LEED points for attaining specific "green building' criteria. Categories are based on energy efficiency, materials used, indoor air quality, sustainability, and water efficiency. The number of points earned decides which tier of LEED Certification the project receives. LEED certification is available in four advancing rankings according to the following scale: There are 100 base points, and certification rankings are as follows:
Certified 40-49 points
Silver 50-59 points
Gold 60-79 points
Platinum 80 points and above
To learn more about the LEED certification and green initiatives for the Temecula area, visit http://www.greentowns.com/ca/temecula.
The LEED Certification Path That's Right For You At USModular, we help you determine the most beneficial certification path for your prefab new home and give you the means and assets you need to have an immediate and measurable impact on your home or building's performance, in the environment and your wallet. For more info on LEED Efficiency, visit our website!