LivingHomes at Atwater Village
A collection of 6 single family homes located along one of LA's best walkable streets in the heart of Atwater Village.
Living Homes at Atwater Village was the company's first development project. Consisting of six town homes and an office building, all of the units are certified LEED Platinum—the first homes in Los Angeles under $1,000,000 to be given this status at the time.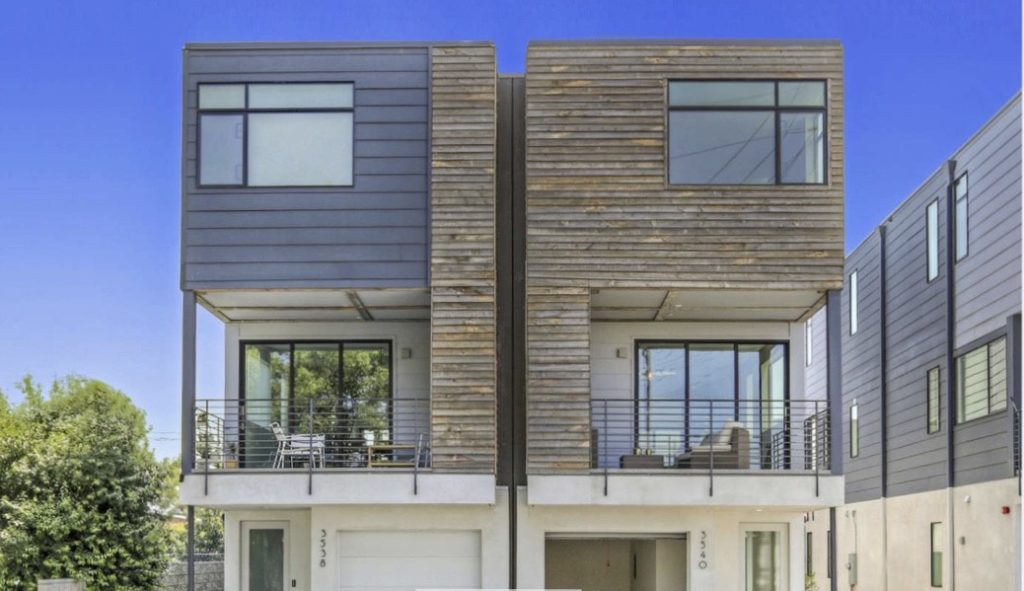 | | |
| --- | --- |
| Type | Custom 6-unit |
| Bedrooms | 3 |
| Bathrooms | 3 |
| Floor Area | 1800 sq. ft. |
| Client | Living Homes / Rethink Development |
| Architect/Designer | Living Homes |
| Location | Atwater Village, Los Angeles, CA |
Atwater Village Los Angeles Modular Hybrid Construction Small Lot Subdivision
The development in Atwater Village project is a small lot subdivision that subdivides a large lot into 6 small individual parcels. Each parcel has a 3 story home. The project in which USModular was a subcontractor are modular hybrid construction – with 1st floor garage and foundations built onsite with 2 floors of prefabricated modules with livable space set above the 1st floor. Each individual home has 3 bedrooms and 3 baths with several outdoor decks and a 2 car garage. This modular hybrid style of construction allows garage and foundation to be built onsite while the modules with livable space on 2nd and 3rd floor are prefabricated in the modular factory. The modules are complete with interior walls, stairs, windows, exterior cladding, flooring, kitchen cabinets, bathroom fixtures , stainless steel appliances, electrical and plumbing are compete in each module and include fire sprinklers. The 2 upper floor modules are lifted onto the 1st floor with a crane and bolted together to secure the structural connections of the building and all mechanical, electrical and plumbing are connection to finish the building. This project is located in Atwater Village in Los Angeles is one of LA's best walk-able streets . Atwater Village is close to Downtown Los Angeles with easy access to Farmers Markets, restaurants, Griffith Park and the bike paths along the LA River.
Modular Hybrid construction combining site construction with prefabricated building components is one of the techniques USModular uses to build as efficient as possible. With the overall goal to save time and money for owners. This style of construction is good for homes, apartments and townhomes where parking is required on 1st floor.