The Capistrano is USModular's Showcase Model Modular Home in Carlsbad, California. This two-story Craftsman style modular home with 3,500 sq. ft. was built in 8 modules. The home has an ocean view from every room, a large front porch and two car garage, all built by our factory partner. This home has 5 Bedrooms, 3.5 Baths, a Bonus Room, Office and an open Kitchen with a Great Room and a formal Dining Room. Another special feature of this home is it was built with two Laundry Rooms, one upstairs and one downstairs, with full wash and dryer hookups. The home has many upgrades, including GE profile appliances, Verve wireless electronic lighting, Hardwood floors, speakers in every room, recycled IceStone countertops, and Milgard fiberglass clad wood casement windows and doors. Time to complete this home from permitting to final inspection was only 45 days!
---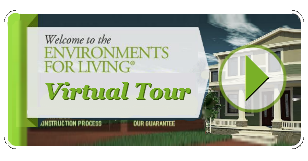 Click Now To Take the Virtual 3D Tour of our Carlsbad Model Home!
Get to know the Capistrano room-by-room, feature-by-feature in this 3D virtual tour
---
Watch The Capistrano Build-out
45 days:
Total time to complete this home from permitting to final inspection-Carlsbad, CA
---
---
---
The Capistrano features the very best in smart, efficient and green appliances, devices, accessories and technologies to create an exceptional, modern systems-built modular home.
BEHR Paint Low-VOC paint
Crossville Tile
Guy Evans Contractor Services Closet Systems
Milgard Windows and Doors
Progress Lighting Fixtures
Shaw Flooring Low-VOC carpet, laminate & hardwood flooring
Verve Living Systems energy-harvesting, radio frequency-based lighting control systems
Codel Entry Systems Entry Doors
ET2 Light Fixture
Lumicor Shelving Recycled mixed glass bottles
BRIZO Loki® Faucet
Cambri Cherrybrook™ a Counter Top
Franke Bar Anthracite Sink Elements™
GE Wine Chiller Profile™ Series
Merillat Cabinetry Classic®
BRIZO Pot Filler Euro Wall Mount
Delta Faucet Pilar™ with DIAMOND™ Seal and Touch2O™ Technology
Franke Sink Galassia
GE Wall Oven Profile™ Advantium® Series
GE Convection Wall Oven Profile™ Series
GE Gas Cook top Profile™ Series
GE Refrigerator Energy Star® Refrigerator Profile™ Series
GE Range Hood Profile™ Series
GE Dishwasher Energy Star® Dishwasher Profile™ Series
GE Energy Monitoring Dashboard
IceStone Cooktop Countertop Refined
IceStone Sink Countertop Refined Collection
Merillat Cabinetry Classic® Silhouette
Merillat Cabinetry Masterpiece® Laredo in Peppercorn Oak
Merillat Cabinetry Masterpiece® Laredo in Willow Maple
Tresco International Cabinet Lighting
Vetrazzo Banquette Alehouse Amber with Patina—Recycled Glass
BRIZO Shower Faucet Euro Valve and Slide Bar with Handshower
BRIZO Toilet Lever Euro Bath Accessory
BRIZO Towel Ring Euro Bath Accessory
BRIZO Toilet Paper Holder Euro Bath Accessory
Caroma Toilet Caravelle Range Dual Flush High Efficiency
Corian Vanity Countertop Aztec Gold
Delta Faucet Vessona™
Delta Vanity Faucet Grail®
Franke Work Center Sink Farm Sink
GE Frontload Washer Energy Star® Frontload Washer Profile™ Series
GE Frontload Dryer Dryer Profile™ Series
Link A Sink Vanity Sink Brushed Nickel
Merillat Cabinetry Classic® Spring Valley
Vetrazzo Laundry Countertop Alehouse Amber with Patina—Recycled Glass
Vetrazzo Mail-stop Countertop Alehouse Amber—Recycled Glass
Merillat Cabinetry Masterpiece® Laredo in Peppercorn Oak
Milgard Woodclad™ French Door with Matte Black Exterior
Owens Corning Cultured Stone® Pro-Fit® Ledge Stone Southwest
ET2 Light Fixture Murano Glass Flower
Owens Corning Crawl Space System
Owens Corning Sounding InsulationQuietZone® Noise ControlBatts
AquaGlass Acrylic Tub Sanford
Cambria Vessel Countertop Sussex
Cambria Dressing Surface Sussex™
Cambria Tub Surround Hazelford™
Caroma Toilet Caravelle Range Dual Flush High Efficiency—Elongated
Delta Vanity Faucets Dryden™ Bath Collection
Delta Tub Faucet Dryden™ Bath Collection
Delta Showerhead Contemporary Showerhead with H2OKinetic Technology™
Delta Shower set Dryden™
Delta Tissue Holder Dryden™ Bath Collection
Delta Towel Ring Dryden™ Bath Collection
Delta Towel Bars Dryden™ Bath Collection
Link A Sink Vessel Cloisonne White Leaves
Merillat Cabinetry Classic® Labelle in English Saddle Maple
Cambria Work Surface Hyde Park™
KraftMaid Cabinetry Parker House Cherry Chocolate
KraftMaid Cabinetry Lockeford Cherry Vintage Onyx
Shaw Hardwood Epic Revere Midnight Ride Maple
Caroma Toilet Caravelle Range Dual Flush High Efficiency
Ginger Faucet Surface™ with Low Flow Aerator
Ginger Mirror Surface™
Ginger Tissue Holder Surface™
Ginger Towel Ring Surface™
Link A Sink Vessel Sink Bronze Glaze Handmade Porcelain
Merillat Cabinetry Masterpiece® Martel in Black Glaze Cherry
Vetrazzo Countertop Alehouse Amber
Guy Evans Contractor Services Stairs Insulation
L.J. Smith Stairs Medallion Balusters and Collars
Lumicor Inserts Coastal
Merillat Cabinetry Classic® Silhouette in Sable Maple
Tresco International Cabinet Lighting
MatWorks Carpeting Carved Rocker Design with Shaw Carpet
3Owens Corning Noise Control QuietZone® Noise Control Batts and QuietZone® Ascoutic Sealant
3BIBS® Blow-In-Blanket®
Blow-In-Blanket® Insulation Display BIBS® Mesh with fiberglass insulation blow-in
Blow-In-Blanket® Insulation Display BIBS® HP
Lennox Gas Furnance Dave Lennox Signature Collection—Featuring Precise Comfort™ and AirFlex™ technologies
Lennox Air Conditioner Dave Lennox Signature Collection XC21 two stage—FeaturingSilentComfort™ technology
Lennox Air Purification Dave Lennox Signature Collection PureAire™ air purification system
Lennox Filter Precision Pleat™ MERV 16 filter combined with photo-catalytic oxidation
Lennox Air Ventilation Healthy Climate® Heat Recovery Ventilator
Lennox Thermostat ComfortSense™ touchscreen thermostat
Masco ContractorServicesInsulation Display Cellulose
Owens Corning Insulation Display PROPINK Complete™
Delta Vanity Faucet Grail®
Delta Vanity Faucet Lahara®
Lumicor Wall Panels Rain Gloss
AquaGlass Tub & Shower Unit Professional Eleganza™
Caroma Toilet Brisbane Range Dual Flush High Efficiency
Hansgrohe Plumbing Fixtures AXOR Cittero
Hansgrohe Bath Hardware AXOR
IceStone Vanity Top Classic Collection—Sage Pearl
Link A Sink Vessels White Porcelain Stripe Bowl
Merillat Cabinetry Classic® Somerton Hill in Venetian Fresco Maple
GE Washer Energy Star® Frontload Washer Profile™ Series
GE Dryer Profile™ Series
GE Base Profile™ Series
GE Base Profile™ Series
GE Water Heater Hybrid Electric Heater
Merillat Cabinetry Classic® Spring Valley in Java Maple
Vetrazzo Work Surface Palladian Gray—Recycled Glass
Icynene Insulation Display Icynene® Open-Celled Spray Insulation
Wayne Dalton Garage Door Systems
ACT Metlund D'MAND® Systems Recirculating Pump and Components
Build-Rite™ Whole House Design Services
Deceuninck Decking Kodiak® Composite Decking
Emtek Decorative Hardware
GE Light Bulbs
HP Products Central Vac System
Huttig Building Products Entry Door Base and Casing
LP LVL SolidStart®
LP Exterior Cladding SmartSide® Trim and Siding
LP OSB Sheathing
LP LVL SolidStart®
LP Sheathing TechShield® Radiant Barrier
Orepac Millwork Products Interior Trim
Owens Corning Roofing Duration® Premium Cool Shingles in Cool Sage
Owens Corning Insulation PINK FIBERGLAS™ R-21
Owens Corning Insulation PINK FIBERGLAS™ R-38
Owens Corning Cultured Stone® Del Mare® Ledgestone Burnt Ochre
Owens Corning Extruded Polystyrene Insulation FOAMULAR®
Owens Corning Window Flashing WEATHEResist® Flashing Tape
Owens Corning BILD-R-TAPE® Construction Tape
Simpson StrongTie Connectors and Hangers
Traba International Door Interior Doors Pasadena
Model home Carlsbad, CA – The Capistrano by USModular
---