Revitalizing Redlands, CA
Valencia Grove, a large prefab affordable housing community at the corner of Orange Street and Lugonia Avenue in Redlands, CA was built more than 70 years ago. The entire community is currently undergoing a major revitalization. For this endeavor, the Housing Authority of the County of San Bernardino (HACSB) is partnering with its affiliate non-profit developer, Housing Partners, Inc. (HPI), in an effort to move away from the traditional public housing model towards a mixed-use housing community. The site plan for the revitalization of Valencia Grove in North Redlands includes three parks/playgrounds and a multi-use community center. Construction and financing costs will be lower, the project permitting
and construction will be faster, so the project will have earlier occupancy due to the use of innovative Modular Construction!
The project includes the following partners: HPI, Chase Bank, PNC Bank, US Modular Inc., City of Redlands, Redlands Unified School District, and the County of San Bernardino. These partners are working to revitalize this North Redlands neighborhood to create a vibrant mixed income community with multi-use educational and recreational facilities available to all residents of the City of Redlands.
This endeavor will also contribute significantly to the city's economy and job creation efforts. Approximately $35 million has been secured for the first phase currently underway, which consists of 4% Low Income Housing Tax Credits, Tax-exempt bonds, and conventional financing. During this phase, 62 of the original 115 units have been demolished to make way for 85 new affordable housing units. Utilizing an innovative modular construction format, factory-built housing units will be installed to substantially accelerate the construction schedule and save on site labor costs. Upon completion, the 228 unit-community will include three park/playground areas, a recreational center with a swimming pool, an educational facility, and community gardens. An on-site deconstruction/construction training program has been implemented to maximize the amount of salvaged material and provide valuable job training and experience for residents.
Valencia Grove "Green" Site Plan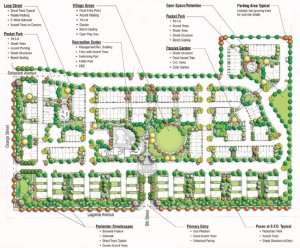 Current housing numbers: • 115 Affordable Housing Units—for families with than 80% Area Median Income (AMI) • Approximately 430 residents Post-Construction Numbers – 228 total units (projected) • 39 Single Family Homes for Sale—for families with 80-120% AMI • 189 Low Income Housing Tax Credit Units—for families with 30-60% AMI • Approximately 940 residents