USModular joins the Wounded Warrior Project to Transport and install ADU'S that will Provide Permanent Housing for Homeless Veterans
Providing affordable, permanent housing for homeless veterans while training the next generation of home builders
About The Warrior Village Project
The Warrior Village Project is a collaboration of building industry associations, nonprofits serving veterans, high schools and community colleges, business and private donors, and private citizens working together to provide affordable, permanent housing for homeless veterans while training the next generation of home builders. Each of the organizations involved in the Project is providing expertise and resources consistent with its unique capabilities and the mission of its organization.
Students will build 400 sq. ft. cottages in two modules in building and construction classes on their campuses. The modules will be transported to sites in San Diego County and joined together as permanent residences on permanent foundations. Through the Warrior Village Project, students will learn skills that will prepare them for careers in the building industry or higher education in STEM disciplines, and veterans will receive permanent, affordable housing.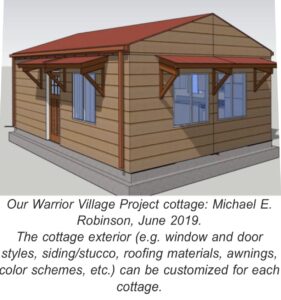 Warrior Village Project cottage: Michael E. Robinson, June 2019.
The cottage exterior (e.g. window and door styles, siding/stucco, roofing materials, awnings, color schemes, etc.) can be customized for each cottage.
The Vision is to build Pocket Neighborhood communities of 12 of cottages and a community center throughout San Diego County with the needs of homeless veterans in mind: permanent, truly affordable housing in a supportive community environment. To work toward this vision, our first cottages will be installed as Accessory Dwelling Units (ADUs, or 'Granny Flats'). Installing our cottages as ADUs will enable us to:
Take advantage of the incentives, including building fee waivers, offered by local jurisdictions to encourage the development of ADUs. While these incentives are in place, installing our cottages as ADUs is the most cost effective way to increase the affordable housing stock in San Diego County.
Postpone investment in land and infrastructure and building fees for our first village until we have enough schools enrolled in the Project to build 12 cottages at the same time.
San Marcos High School (San Marcos, CA) will build the first 2 cottages during the 2019 – 2020 academic year. We are working to provide the resources for North County Trade Tech (Vista, CA) to build a cottage during the 2020 – 2021 academic year. It is our goal to expand the Warrior Village Project to other schools throughout San Diego County over the next 5 years.
"When we started building our ADUs we were on a steep learning curve. We looked for companies from which we could learn about building a cottage in a "factory" and trans- porting it and installing it at a residential site. We discovered that USModular, Inc. is the preeminent Factory Built Home Builder in California. We toured their factory in San Jacinto, CA twice. We watched USModular install their homes on permanent foundations in Canoga Park and La Mesa to see how the pros do it. So, when we asked USModular for help, we were thrilled when they quickly said Yes! USModular will be advising us on different ways to safely and cost- effectively transport our cottages, prepare our building sites for our ADUs, setting our ADUs on their permanent foundations, and hooking up the utilities. Thank you USModular!
Modular Construction: Faster, Better, Greener
"Building with Modular construction will save time and money on this ADU project. The site work including grading and foundation are being developed at the same time the homes are built indoors in a modular factory. Building indoors eliminates any issues traditional builders have with the elements particularly moisture which can cause future problems especially for residents with underlying health issues" Says Bill Cavanaugh, V.P. of USModular Inc.
USModular Inc is a full service design and build general contractor specializing in design and construction of single and multifamily homes using prefabricated/ modular construction. We service all of southern California.
For More Information contact:
Mark L. Pilcher
Email: Mark.L.Pilcher@gmail.com
Or